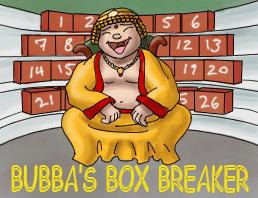 To play Bubba's Box Breaker you must have a Box Breaker Coin on hand. There are three levels to choose from. The levels affect the value of the prizes. The easy level costs one coin and the player can win up to 75,000PB. The medium level costs one coin and 5,000PB, and the player can win up to 125,000PB. The hard level costs one coin and 15,000PB, and the player can win up to 200,000PB.
Once the player picks a level the game begins. The first box the player clicks on becomes their box, and contains the prize the player will walk away with if they do not sell it at some point. The player then clicks on boxes to eliminate prizes. Every once in a while the Bubba will make the player an offer for their box. If the player chooses to sell, the game ends and the player walks away with the money. If the player decides to reject the offer, the game continues with the player selecting more boxes to eliminate. The game ends when the player has either accepted an offer or eliminated all the other boxes, leaving the player to take home the prize in their box.
Ad blocker interference detected!
Wikia is a free-to-use site that makes money from advertising. We have a modified experience for viewers using ad blockers

Wikia is not accessible if you've made further modifications. Remove the custom ad blocker rule(s) and the page will load as expected.