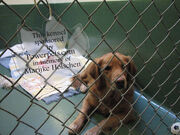 Thanks to everyone who purchased Gryphon Giftpacks this year, we have been able to donate a fair chunk of change to the Progressive Animal Welfare Society in Washington.
This year, we were able to sponsor two dog and two cat kennels for a year. They'll each hold a plaque bearing Gryphon's name. We were also able to donate money on top of that for PAWS to purchase whatever items they need on their wishlist.
Ad blocker interference detected!
Wikia is a free-to-use site that makes money from advertising. We have a modified experience for viewers using ad blockers

Wikia is not accessible if you've made further modifications. Remove the custom ad blocker rule(s) and the page will load as expected.