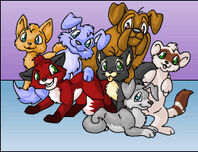 The pets that the player can adopt on Powerpets are animals that can be found in the real world, from normal cats and dogs to the more endangered species such as tigers and zebras. Each of these pets have their own individual "region" and can be changed to different colours using fur tonics at the Grooming Parlour in Xiang Chung-Shi. On Powerpets, there will be a different week for each animal, on which new backgrounds, profiles, food and toys will be released, and those who own the featured pet also get special benefits in that period of time. As of April 2012, there are a total of 80 pets for players to choose from.
In Powerpets, players can do a variety of things with their pets, such as feeding them, playing with them, increasing their strength or even armouring them so that they can battle and compete in the Powerdome to fulfill quests or a gameplay plot.
North America
Edit
Bulldog
Collie
Kuvasz
Labrador Retriever
Samoyed
Somali
English Sheepdog
Gray Fox
Holland Lop
Ferret
Red Fox
Maine Coon
Panda
Indicus
Leopard
Red Bear
Gibbon
Orangutan
Japanese Crane
Loris
Tibetan Yak
Tiger
Wolverine
Mastiff
Australia
Edit
Crocodile
Koala
Australian Fur Seal
Kangaroo
Australian Pony
Platypus
Snake Necked Turtle
Dingo
Echidna
Tasmanian Tiger
Spotted Cuscus
Emu
Antarctica
Edit
Alaskan Malamute
Arctic Fox
Arctic Wolf
Emperor Penguin
Musk Ox
Reindeer
Polar Bear
Walrus
Snowy Owl
Snow Goose
Collared Lemming - Restricted
Dall Sheep
Aardwolf
African Civet
African Elephant
Bat-Eared Fox
Black Rhinoceros
Dikdik - Retired
Camel
Cheetah
Giraffe
Serval
Zebra - Restricted
African Barb
Raccoon
Porcupine
Hare
Pig
Skunk - Restricted
Sheep
Wild Boar
Poodle
Pigeon
Mink
Yorkshire Terrier
Lynx
Bernese Mountain Dog - Not yet available
Sea Turtle
Giant Squid
Sea Otter
Dolphin
Orca
Moray Eel
Ad blocker interference detected!
Wikia is a free-to-use site that makes money from advertising. We have a modified experience for viewers using ad blockers

Wikia is not accessible if you've made further modifications. Remove the custom ad blocker rule(s) and the page will load as expected.