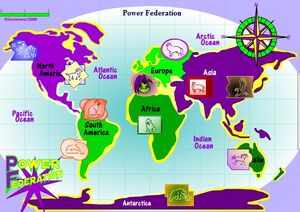 The Power Federation is a group of several cities located in all continents. Players can join a city by purchasing land in one of the cities' districts with either land deeds or Powerbucks.
Each city comes with their own benefits that vary from from city to city. Citizens will also have to pay a property tax (due every Saturday) at the tax rate set by the current mayor, depending on the size of the property.
List of Power Federation Cities
Edit
The following is a list of Power Federation cities as of April 2012.
Ad blocker interference detected!
Wikia is a free-to-use site that makes money from advertising. We have a modified experience for viewers using ad blockers

Wikia is not accessible if you've made further modifications. Remove the custom ad blocker rule(s) and the page will load as expected.