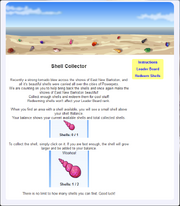 Shell Collector is a game usually active during the summer.  A batch of shells is placed randomly anywhere on the site.  Players search for the batch and may pick up one shell from the batch.  Once the batch is empty a new batch is placed randomly anywhere on the site to restart the cycle. There is always an announcement in Small Updates when the game starts, intermissions, and ends.
Background
Edit
Small Updates (July 2, 2011):
"A few nights ago, just before Randy started his summer job of laying around on the beach and hiding popsicles under the sand, East New Barkston was hit with some bad weather. In fact, a waterspout ended up making landfall on the beach, cleaning out thousands of sea shells and carrying them away.

East New Barkston now needs your help finding all these shells so they can be returned to the beach. Find as many as you can and trade them in at the Shell Shop for cool rewards. There's no special items stocking at the Shell Shop just yet, but we're sure some will be popping up soon.

Shells can be found anywhere. Check out the Shell Collector page for details. You can access this page by clicking Shells x/x under your username on the left.

This event will run for most of the summer holiday, but we are scheduling a few intermissions. Good luck!"

---

Shell Collector page:
"Recently a strong tornado blew across the shores of East New Barkston, and all it's beautiful shells were carried all over the cities of Powerpets. We are counting on you to help bring back the shells and once again make the shores of East New Barkston beautiful!"
How to go to Shell Collector
Edit
Note: Shell Collector has to be active.
Log into Powerpets, if you are not logged in.
Click on the link that appears as "Shells:" on top of the screen.
How to collect a shell
Edit
| | |
| --- | --- |
| | Locate the current batch.  You may find this area by stumbling upon it or by reading a post on the Beginners Forum.  When you are in the correct area an image of the shell will appear on the screen. |
| | Place your mouse cursor over the shell and then click it.  If you collect the shell before the batch is empty, the image of the shell will become larger and your shell count will increase. |
| | If you try to collect the shell after the batch is empty, the shell's image will change into a notification that you were too slow. |
Shells before the 2013 layout
Edit
Shells starting from the 2013 layout
Edit
Available items from this game
Edit
Job Agency Power Card
Job Agency Gold Card
Brown Bag Dispenser Coin
Box Breaker Coin
Lucky Silver Coin
Power Picks Card
Chubbs Tac Toe Card
Scratch 4 Power Card
Purple Fur Tonic
Space Cottontail
Burglar Cottontail
Detective Cottontail
Football Cottontail
Hatted Cottontail
Karate Cottontail
Ogre Cottontail
Robo Cottontail
Super Cottontail
Unplugged Cottontail
Wizard Cottontail
Upsidedown Cottontail
Swimming Cottontail
Sunbathing Cottontail
Shopping Cottontail
Icecream Cottontail
Foggy Cottontail
Pink Fur Tonic
Chatty Cottontail
Sleepy Cottontail
Ad blocker interference detected!
Wikia is a free-to-use site that makes money from advertising. We have a modified experience for viewers using ad blockers

Wikia is not accessible if you've made further modifications. Remove the custom ad blocker rule(s) and the page will load as expected.